Update: July 2013. There's a new version of the book and you can buy it here. The review below is for the previous edition but it's still a great book!
Author: Nick Cotton
Paperback: 208 pages
Publisher: Vertebrate Graphics Ltd
ISBN-10: 9781906148034
ISBN-13: 978-1906148034
RRP £15.95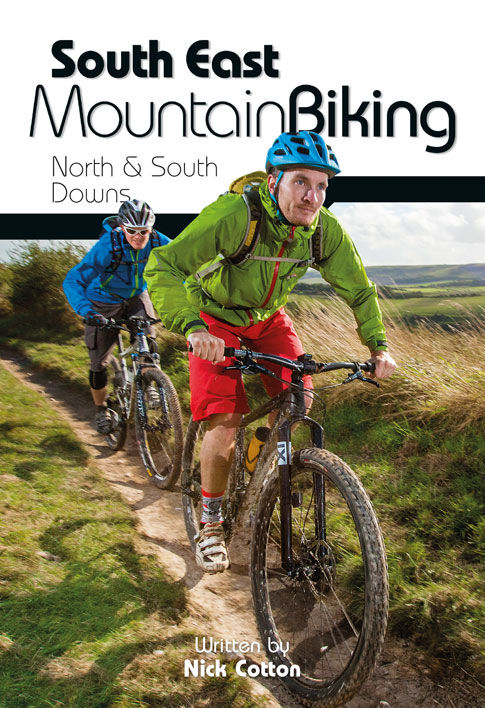 South East Mountain Biking: North and South Downs is a compact and nicely designed guide to some of the best off-road mountain biking routes in the South East of England. The book contains 24 routes, ten on the North Downs and 14 on the South Downs, ranging from 16 to 35 km in distance.
Each of the routes has a short description with ride contour profile, grading from blue (easy) to red to black (hard), a map, and very detailed step-by-step instructions. The maps are not Ordnance Survey maps but they are clearly drawn and, together with the instructions, you should be able to follow along without much difficulty. Each of the routes has some nice mountain biking action photographs as well.
The book has an introduction which gives mountain bike/cycling tips and advice. It's also good to see that the grade for each ride is described as dependent on conditions. For example, an easy ride in summer will be much more difficult if muddy in winter. If you have ever ridden the Downs, you will know this!
The book has some useful sections at the end. For example, a list of bike shops in the North/South Downs area, and lists of top ten downhills, and top ten climbs, from the book.
All in all, I think this is a great book that helps you explore some fantastic off-road cycling on the Downs. It's quite compact so will easily slip into a cycle jersey pocket or medium sized bike bag or rucksack pocket.
Living in Horsham between the North and South Downs, this is the ideal book for me!