40 Classic Routes for Road Cyclists
Great British Bike Rides is a fantastic book for discovering rides and planning cycle trips around the UK. It describes 40 routes from Southern England to Scotland.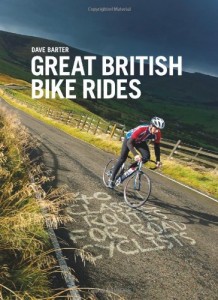 Each route has its own chapter in the book and contains a wealth of information, including description, route gradient profile, hill analysis with specific climbs highlighted, maps, turn-by turn instructions, and is graded from Moderate to Extreme. And with some fantastic photographs!
Author: Dave Barter
Paperback: 288 pages
Publisher: Vertebrate Graphics/Publishing Ltd
ISBN-10: 1906148554
ISBN-13: 978-1906148553
RRP £25 but typically priced at £19.99
I've used this book to research routes for several cycling trips, for example this Chilterns cycle ride. I wouldn't take it with me on rides because it's not really designed for that and it's pretty heavy! However, it comes with a set of downloadable GPX files that you can use in your bicycle GPS sat-nav device (I've used the GPX files with my Garmin Edge 200).
The routes are between 59 and 100 miles so they are not really for the beginner. And some are very challenging because of the climbs. However, they showcase wonderful countryside and will give you a real sense of achievement after completing each ride.
This is one of my favourite books!