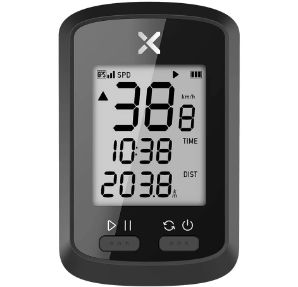 I have replaced my Garmin Edge 200 with a XOSS G Cycling Computer. My trusty Garmin is over 7 years old and its battery1 no longer lasts more than a few hours. Time for a replacement. Here's my review of the XOSS G GPS cycle computer.
Pros
Great value for money
Syncs direct with Strava via XOSS app
Long-lasting battery
Easy to use
Cons
I spent a few days researching replacements and the choice for me came down to either a more expensive Garmin Edge 130 or a cheaper non-Garmin computer. I chose the cheaper option, partly to save money and also to try something different.
I didn't know anything about the XOSS G before but it received positive comments and reviews along with its more fully featured G+ model, which will work with different sensors like HR straps. I didn't want the sensor connection ability of the G+ and the G model was my choice.
Cycling with the XOSS G
I've used the XOSS G on several rides now and I'm very happy with it.
It's easy to use with two multi-function buttons below the screen. At the start of a cycle ride, press one button to power up the unit, then press the other button to get a GPS signal. Wait for GPS satellite connection, which takes less than a minute normally, and then ride!
The XOSS comes with a handlebar mount which is closely similar to a Garmin mount; I've used the XOSS with Garmin mount on all my rides.
Whilst cycling, I use the main screen (speed, ride time and distance) on the XOSS G but it's also possible to switch between two other screens of data with a button press. The three screens are not customisable but, in practice, this isn't an issue for me. Each screen has a different set of metrics, including e.g average speed, altitude, maximum speed, and current clock.
I've set-up my XOSS G to auto pause and this means the unit stops when I stop and restarts when I do. That stopping and starting is signalled by a beep and it's very quick.
My old Garmin Edge 200 has a more readable display, even though the screen size of the XOSS G is the same, but the difference is negligible. Certainly not worth another £100 or more.
The XOSS G connects very quickly with GPS satellites and, with one exception, is accurate on rides. The exception was an instance where GPS connection was lost on an early ride and my route wasn't correct until the signal was picked up again. This hasn't happened since.
XOSS App
My XOSS G connects with a XOSS smartphone app and this is essential if you want to upload or save cycle rides. Connecting the XOSS via USB to a laptop will charge the battery but it's not possible to transfer rides this way. I downloaded the XOSS app and it was simple and quick to connect with my XOSS G.
After every ride, I connect the app to the XOSS G and synchronise the two. My most recent ride will upload to the app. That process is not especially quick but that's not been a problem thus far.
The app can be connected with Strava or Training Peaks accounts so that each new ride is automatically uploaded to those platforms. When I first used the XOSS app, this wasn't working2 and there were plenty of reviews about the Strava connection failure. That has now been fixed by the developers and my cycle rides now appear on Strava within a few minutes.
The app is relatively simple but it does what I need. And, after the initial Strava problem, it has been working nicely.
In Summary
The XOSS G is a great value, easy to use and fully featured GPS cycling computer. I'm happy with my purchase and I'll be using it on all my rides.
Update: July 2022: I have been using the XOSS G for over a year now and it has been working brilliantly for me.
---
It is possible to replace battery with a home repair and some people choose to do that. ↩︎
It was still possible to send a gps file by email and upload that manually to Strava. ↩︎