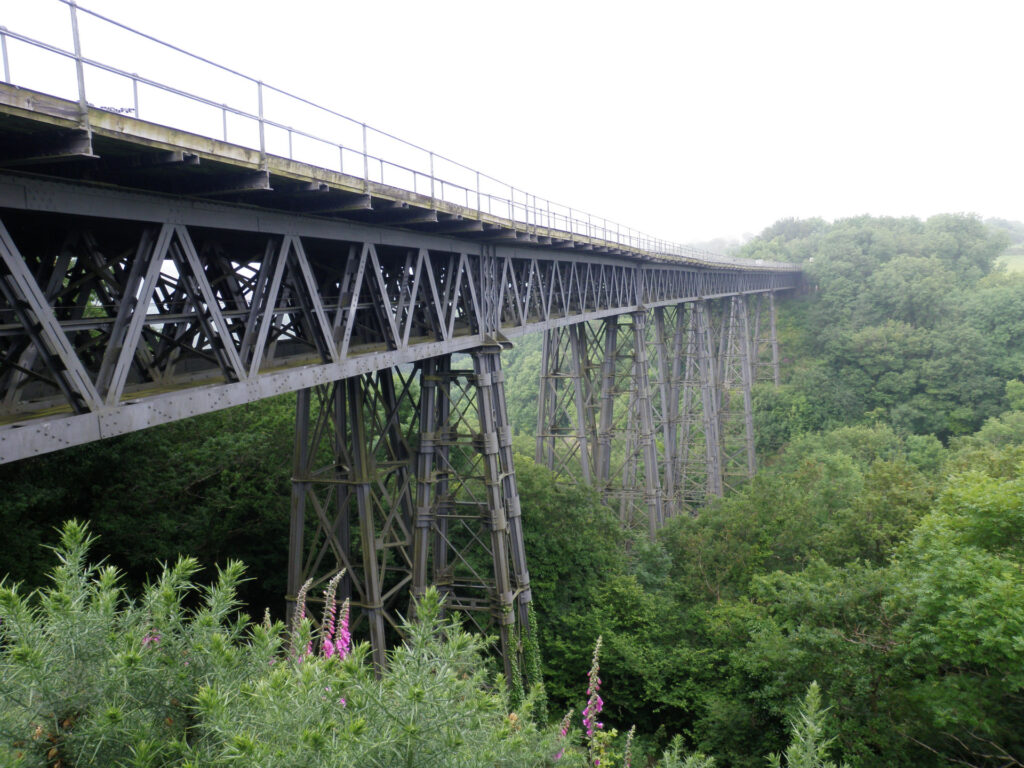 I've cycled the Devon Coast-to-Coast route from Ilfracombe to Plymouth twice now. It's a great cycling route (approx 102 miles) that winds its way through some stunning and varied scenery, via country lanes, traffic-free cycling and walking trails, and with a few bridleways thrown in for good measure. Here's my account of the route (or, at least, what we did).
Start and Finish: Ilfracombe
Day 1: Ilfracombe to Okehampton – 58 miles (93 km)
Day 2: Okehampton to Plymouth – and back to Okehampton – 75 miles (120 km)
Day 3: Return to Ilfracombe from Okehampton – 56 miles (90 km)
Suitable for all types of bicycle; the bridleway sections are short and some can be skipped if you are on a road bike.
Google maps: Day 1, Day 2, Day 2 (afternoon), Day 3
We decided to start and finish in Ilfracombe so we used Okehampton as the mid-point of the ride. This meant a long second day of 75 miles cycling. Of course, if you return home from Plymouth, it's perfectly possible to make this a two day trip. We had to cycle back to Ilfracombe though!
We're not a regular cycling club, or into any of that lycra stuff, but just a few guys who do the occasional cycling weekend.
Where We Stayed
We stayed two nights in Ilfracombe at Wentworth House and two in Okehampton at Meadowlea Guest House. In particular, Meadowlea Guest House couldn't have been more welcoming and friendly for five wet and dirty cyclists (it rained a lot on our first day). They had a drying cupboard with dehumidifier and we used this to dry clothes/cycling gear overnight. Breakfast was excellent. Both guest houses are on the Coast-to-Coast route so there were no extra detours required.
Maps and Navigating the Route
We used this Sustrans Devon Coast-to-Coast map and there are also separate Devon North and South maps. In addition, one of our group has a Garmin Edge 800 on his bike so he downloaded .gpx routes for each day and used the Garmin to lead the ride (thanks Brian!).
Day 1: Ilfracombe to Okehampton
We started on the harbourside at Ilfracombe and the first part of the route followed the old railway line (a gradual incline) out of town. We took the coastal route via Woolacombe on this leg of the trip and you get to see some glorious scenery along the bay. Unfortunately, it rained for most of the first day – so not the best weather to stop and admire!
From Braunton to Barnstaple and Bideford is completely flat cycling, some of it alongside the River Taw, and the middle part of this day included about 20 miles with no real hills along the Tarka Trail. The situation changes after East Yarde and you can either take a longer and hillier route via Petrockstowe and Sheepwash – or take an off-road route to Meeth followed by a small section of main road (A386). We did the off-road route on Day 1 and the Sheepwash route on the return journey on Day 3. The off-road route was great fun because of all the rain and the trail was like a river as we came downhill near Meeth.
Hatherleigh to Okehampton is along quiet roads and the descent into Okehampton was welcome at the end of the afternoon. Not so great on the final day going the other way though!
Below: The Ilfacombe-Okehampton section
View
Ilfracombe to Okehampton
in a larger map
Day 2: To Plymouth – and Return to Okehampton
The second day started on the traffic-free Granite Way near Okehampton and the first ten miles included the magnificent Meldon and Lake viaducts before we headed across the A386 to Bridestowe and Lydford. After Lydford, there was a choice of two routes, either west or east of Tavistock. Going south, we took the eastern route through Mary Tavy, Peter Tavy (which included several tough climbs) and along the edge of Dartmoor before picking up the Plym Valley Trail for the last ten miles into Plymouth.
I missed the official route going into the centre of Plymouth but, after a quick lunch, found it on the return journey. This time, on Day 2 (afternoon), going north, we repeated the Plym Valley Trail before branching off at Yelverton and taking the western route round Tavistock. This section includes a fantastic cycling and walking trail (Drake's Trail) across the new Gem Bridge. It's great to see money being spent on outdoor infrastructure in this way!
Tip: Always carry lights with you on long cycling days. You never know if you will get delayed and end up cycling home after sunset.
This was a long day cycling and I found the last ten miles really difficult so I finished the ride at about 8.45 pm. Just enough time for a shower and a quick beer that evening though!
Below: The Plymouth-Okehampton return journey
View
Plymouth to Okehampton
in a larger map
Day 3: Returning from Okehampton to Ilfracombe
We repeated our route back to Ilfracombe on Day 3 but took the hillier (groan) Sheepwash-Petrockstowe section instead of the Meeth off-road section that we did on Day 1. The middle section of the day included the very flat 20 mile Tarka Trail section from the first day so that was a good opportunity to rest legs (slightly) before the climb out of Braunton and inland (not Woolacombe Bay this time) back to Ilfracombe. The last few miles was a long traffic-free downhill into Ilfracombe itself. Hurrah!
Tip: we stopped for lunch in Instow (between Bideford and Barnstaple) where there is a good village shop with home-made baguettes and sandwiches.
Overall
I enjoyed cycling Devon Coast to Coast because of the scenery (or, at least, what I could see of it through the rain) and the cycling achievement. The weather on the first day was not so enjoyable because of the rain and I soon discovered that my 'waterproof' cycling top is not!
I did quite a bit of training for the ride but would have liked to climb a few of the hills better on the last day. Oh well, that's a lesson for another time.
If you haven't done the Devon Coast-to-Coast route, give it a try! It is well signposted throughout and covers a good distance with some stunning and varied scenery.