On Saturday, some friends and I cycled to Dark Star Brewery for their Spin Up in a Brewery event which promised "Beer, Bikes and BBQ" at the brewery site in Partridge Green.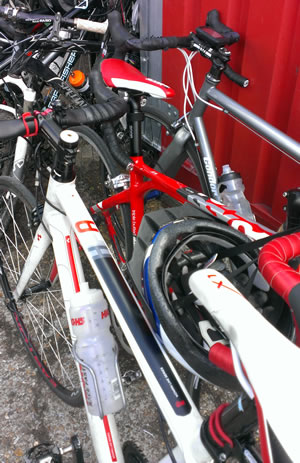 We cycled from Horsham using a route via Warnham, Broadbridge Heath, Barns Green, Dragon's Green, Shipley, Dial Post, Lodge Lane and then Partridge Green on our mountain bikes. We wanted to cover a few more miles than the most direct route – but the return trip was more direct, along the Downs Link to Copsale, then Sedgwick Lane and back to Horsham. In total, the whole trip was 30 miles over a mixture of country lanes and bridleways.
Sorry, I don't have a map of the route but I can trace it out on Google maps if you are interested.
We arrived at the Brewery just after 1pm and there were already lots of people there. Two ride outs had been organised from Brighton and the brewery yard was filling up with bikes as we got there.
The event included a BBQ, roller racing against the clock, beer stalls (and a beer bike!), and several stalls selling cycling gear and other food (cakes!). It was a lovely sunny day and we spent the afternoon drinking a few ales, watching folks do some impressive times on rollers, window shopping some rather good bikes from Kinesis and admiring the brewery shop with its mix of beer and cycling gear for sale.
It was also good to meet Lois (aka Claud and I) who was selling bicycle art prints and badges on a stall at the event.
We had a great time on the day. It's fantastic to see cycling events like this promoted by local businesses and I imagine it's great marketing for the brewery as well. I'll certainly be going back to get one of their "beer fuelled" cycling water bottles and buy a few pints from the brewery shop in coming weeks!