Authors: Deirdre Huston and Marina Bullivant
Paperback: 152 pages
Publisher: Vertebrate Graphics Ltd
ISBN-10: 1906148074
ISBN-13: 978-1906148072
RRP £12.99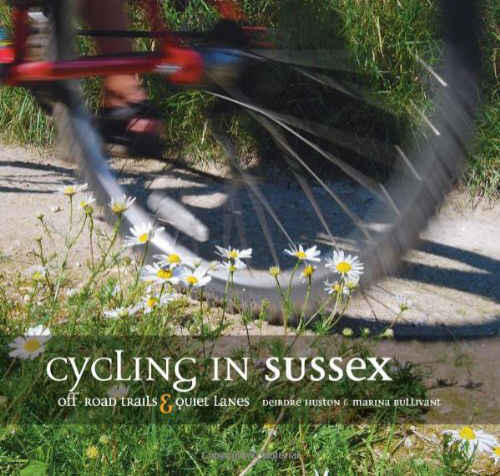 Cycling in Sussex: Off-Road Trails and Quiet Lanes contains descriptions of 20 cycle rides between 4 km and 28 km. The routes are mostly country lanes and some bridleways. The book is aimed at the leisure cyslist and family riders rather than hardcore mountain biker. Having said that, if you are into mountain biking, the book will also show you a few new areas to venture into where you can probably make up your own routes using those in the book as starting points. For example, there is an off-road route from Jack and Jill windmills near Clayton which, although short, will get you onto the South Downs near Brighton and Lewes.
The book is very attractively designed and each route has a clear map with some excellent and easy-to-follow directions. There is also a gradient profile for each route and information about pubs and a local knowledge section. The routes are graded from family/easy rides through to medium and hard rides. There is something for most leisure cyclists whatever your cycling experience or fitness.
The final section of the book contains a description of several of the railway and seafront trails for cyclists in Sussex, including the Downs Link, Forest Way and Worth Way, and Brighton, Seaford and Shoreham seafronts. It's good to see these described because they provide easy routes where you can start cycling without worrying about cars and traffic.
In summary, this is a very nicely designed and high quality book that will give you loads of ideas for cycling and exploring quiet country lanes and bridleways in East and West Sussex.