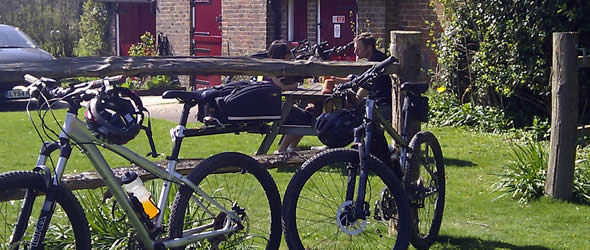 Here's a route that I cycled last weekend. It's a big loop south and west of Horsham using some bridleways and country lanes. On the route, you cycle the Downs Link trail to Henfield, along a grassy river bank to Ashurst, and go past Shipley Windmill with a stop at the Blue Ship pub for lunch. Well, that's what we did anyway!
Distance: 45 miles (72 km) for the whole trip
Type of route: Off-road and country lanes. Mountain bikes and hybrid bikes are best.
Grade: Intermediate but because of the distance, you'll need to be a regular cyclist.
Apart from the Blue Ship, other pubs on or near the route include the Countryman Inn, the George and Dragon, the Queen's Head and the Fountain Inn.
The Route
Don't Get Lost!
I don't have a .gpx file of the route for you to follow but here's a quick summary:
Cycle from Horsham to Partridge Green on the Downs Link.
Pick up the Downs Link again and cycle to Henfield before coming off the main trail just north of Small Dole.
Along a grassy river bank and via a farm road brings you out on to the road south of Ashurst.
Go along Spithandle Lane, then turn right on bridleway, and road to Dial Post [CARE: cross the A24 with caution; it's busy).
Pick up bridleway south of Shipley and go directly past Shipley Windmill.
Cross the A272 at Dragon's Green and cycle to Barns Green.
Barns Green to the Blue Ship at The Haven.
Return to Horsham via the Downs Link near Slinfold and through Broadbridge Heath.
Enjoy the route, it's a good 'un!