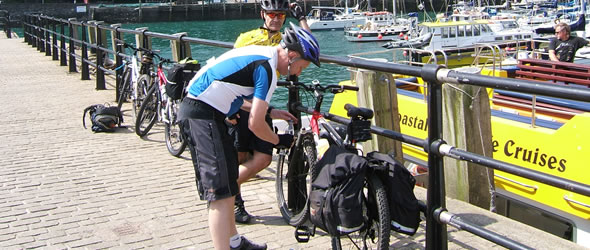 It's summer (so they say) and I have a long weekend cycling trip coming up in July. The trip is the Devon Coast-to Coast route from Ilfracombe to Plymouth. That's approx. 200 miles cycling over three days because we need to get back to the start as well. Gosh, feels like a long way! However, in preparation for the trip, I've been training over the last month or so. Here's what I have been doing; I'm not a fitness instructor but this is what works for me.
I go cycling for short-ish rides most weeks so my training is in addition to that.
Every weekend (over the last month) I've cycled gradually increasing distances. Firstly, 20 – 30 mile trips, then 40 miles, and yesterday this trip over 56 miles. Next weekend, it's an all-day 100 mile cycle ride (a big loop) near where I live in Sussex. The objective here is to get used to 3-4 hours and longer in the saddle.
After the 100 mile trip, I'll be going out for a shorter cycle the next day to try and get accustomed to two days in a row.
In between these longer distances, I've been cycling shorter 1 hour (10 – 15 mile) trips where I tackle some other local routes near Horsham. In these cases I try and choose the steepest hills to improve my hill climbing (and confidence).
I visit the gym once or twice every week, not for cycling, but for maintaining core strength.
I'm doing the training and Devon Coast-to-Coast ride on a mountain bike (with appropriate tyres) and I appreciate that the training distances are perhaps nothing special if you are a regular road cyclist. I'm not!
I've also been 'training' my smartphone with GPS over recent months by assessing what GPS tracking apps work best for reliability and for battery usage. This may be the subject of another post but my conclusion is that Instamapper in combination with Social Hiking (Share Your Adventure) is best for me.
My smartphone lasts approx 7-8 hours when I am sending GPS signals every minute so I'll also be using a Power Monkey Classic for recharging during each day of the trip.
I've done a few weekend cycling trips now and this training works well for me. The trips are still tough but I feel well prepared when I have done all of the above. If you have any training tips or routines of your own, let me know!
Update: Here's my article about cycling the Devon Coast-to-Coast route after my training.