For many years, I resisted the advice of more knowledgeable cycling friends that cleaning my mountain bike chain regularly was a good thing. Instead, I made a few feeble efforts to clean it but mostly just added more and more wet lubricant. As a result, the chain became more and more clogged with oil and debris and gear changing was never as good as when the bike was new. Nowadays, I'm a changed man (!) and cleaning my bike chain is a regular thing that I do. Perhaps not
every
single ride but certainly every 2-3 rides.
My advice is to clean your entire bike regularly but I'm just focusing on the chain here.
A Chain Cleaner Kit is Your Friend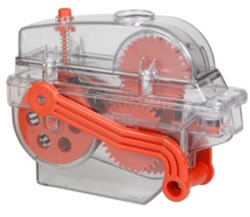 You can use a brush, hot water, degreaser fluid and cloths to clean your chain or you can remove the chain completely and soak in a suitable cleaning fluid. However, the method that suits me best is to use a chain cleaner kit that fits around the chain (while it's still on the bike). Here's how it works:
The kit is a plastic container comprised of two halves, each acting as a cleaning fluid reservoir,  that clip together with a red lever. The lever releases the two reservoirs in the opening position and also clips over the rear derailleur  in the closed position.
Tip: When positioned over the rear derailleur, the lever holds the unit in place around the chain but I find that it's just as easy to hold the unit by hand to prevent it moving with the chain as you clean it.
Each half of the unit contains several rotating brushes that become soaked with cleaning fluid and that closely brush the chain when the unit is operated.
The basic modus operandi is that you fill the bottom and/or top reservoir with cleaning fluid, place the lower section of your bike chain inside the centre area of the bottom half, clip the top half on, lock the unit over the rear derailleur, then rotate the pedals backward by hand so that the chain is pulled through the unit's brushes and cleaning fluid. Several rotations will soon remove dirt and grease, making the cleaning fluid inside pretty black, so it's just a case of removing the kit from the chain by dismantling the two halves, and refilling with new fluid each time.
I find that the chain cleaner kit with 2-3 applications of Muc-Off followed by 2-3 of water will clean effectively but this will depend how dirty the chain is in the first place. After cleaning, I dry the chain by hand with a cloth several times and (if required) leave to dry further over an hour or so before re-applying dry lube as lightly as possible.
The whole cleaning process only takes about 15 minutes plus drying time. The result is a clean chain ready for your next ride and your bike will be better for it!