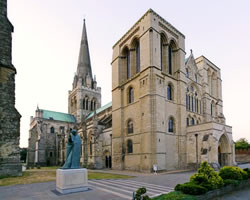 Over the last few weeks, I've been training for a 100 mile all-day cycle ride and last weekend was the big day! Some friends and I cycled from Merstham in Surrey to Chichester in Sussex. Overall, my trip meter said 102 miles at the end of the day. Yay!
The idea for the trip came about because someone said it would be great to cycle 100 miles. There's a challenge! With some route planning using MapMyRide and a hotel booked in Chichester for the Saturday night stay – we were all set!
Ride Summary
Start: Merstham at 7.10 am
End: Chichester at 7.05 pm
Overall 102.5 miles
Average speed: 11.6 mph
In the saddle: 8 hours 48 minutes
GPX file (for importing into a GPS device)
Most of us live south of Merstham, in Horsham, so we caught an early (6 am) Saturday morning train to meet with our Merstham friend and co-rider. A quick cup of tea at his house and we were off! We all did the trip using hybrid bikes or mountain bikes (some with road tyres) but you could do the distance a lot quicker with road bikes. We are not club riders and we mostly cycle along roads and bridleways near Horsham so we don't have road bikes!
The Ride Itself
The route is mainly country lanes and quiet roads through the Surrey and Sussex countryside and, although there are several long-ish climbs, there is only one steep hill, which is the section out of Buriton (across the South Downs Way) at the 80 mile mark. Although steep, it's quite short so perfectly possible to cycle it.
Advice: Make sure that you each have spare inner tubes, tyre levers, puncture repair kits, and that at least one person in the group has bicycle tools (Allen keys etc). Also, make sure that you have a first aid kit – it's only sensible.
We made sure that we all had plenty of water, sports drinks, and other snacks at the start but it was also important to stop and top-up at every opportunity. We stopped at these places:
16 miles – Brockham village shop
27 miles – Rusper village shop
44 miles – Cranleigh High St (plenty of shops for food and drink)
69 miles – Midhurst (45 minute rest stop in mid-afternoon)
There were lots of other short stops to look at the map of course but no other replenishment food and drink stops. That's just the way we did it. There were plenty of villages and pubs en route but there was not enough time to stop at pubs if we wanted to finish at a reasonable time.
Tip: Eat and drink regularly in small amounts throughout any long ride. Eat and drink different types of food. Don't rely on cereal bars bars all day.
I found it helpful for motivation to divide the ride (in my mind) into four sections: (i) Merstham to Rusper; (ii) Rusper to Cranleigh; (iii) Cranleigh to Midhurst; and (iv) Midhurst to Chichester. I found the Cranleigh to Midhurst leg of the route really long and there were not many places to stop on this section. Chiddingfold was probably a place we should have stopped at on this part of the ride. Although the final part of the ride, Midhurst to Chichester, is 30 miles or so – I found this easier than the middle section, probably because the end of the route was 'in sight' – and because the final 20 miles is mostly downhill from where we crossed the South Downs!
We cycled in a single group apart from the last 25 miles where we got separated (by accident rather than any planning). We arrived in Chichester in three groups over 40 minutes or so. Yes, it was a very long day and everyone was very tired but we all made it.
Overall, I really enjoyed the ride but the hotel in Chichester was a very welcome sight!