I've had the same handlebar grips on my Specialized Rockhopper mountain bike since I bought it in 2009. They've gradually become more and more worn and the rubber has started to perish. They're actually pretty horrible to ride with now! So, I've just been to the local Evans Cycles Gatwick Shop and bought a new pair of Bontrager Rhythm Lock-On Grips which were a bargain price at £11.99.
I'm well pleased with the new grips and I think they look stunning with the red aluminium lock-on clamps. Here they are fitted on my bike.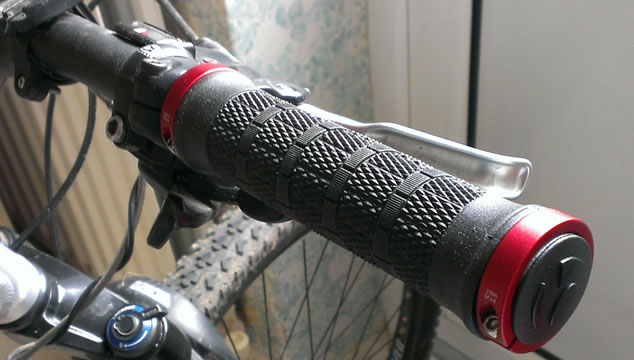 Fitting the new handlebar grips
I thought that my old grips might be difficult to remove but, after a bit of 'elbow grease', they twisted off without any problem. The new grips need a small Allen key to loosen the lock clamps before they are pushed onto the handlebars. After that, simply tighten the Allen screws and the grips are locked.
Overall, I think this is a great purchase and the new Bontrager Rhythm Lock-On Grips make my bike look a lot better than with the old grips. They feel great with just the right amount of grippiness as well. Nice!
Buy Now