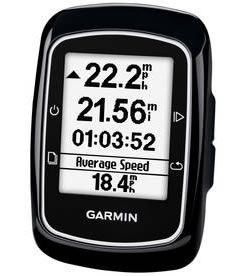 I bought a new bike recently (see Why I've bought a hybrid bike) and needed a cycling trip meter for it. But what type? Another trip computer, either wireless or connected by wire from sensor to handlebar-mounted unit? Or something a bit more 'high tech' perhaps?
The Garmin Edge 200 GPS cycling computer was my choice. After several weeks usage here's my review.
Reasons for buying the Garmin
I wanted a trip computer that was easily transferred between bikes. Additionally, I wanted an alternative way of tracking my cycle rides, and viewing the routes online, without relying on my smartphone (where the battery will not last all day) so a GPS trip computer seemed ideal. A friend has the Garmin 800 but I didn't want maps or the £300 price tag. So, the Edge 200 at £87 was a better choice for me.
Is it any good?
The Edge 200 come with two bicycle mounts which attach the unit to the bike (handlebars or stem) via two very strong "rubber bands". The unit twist locks into place on the mount and is easily removed. It's great to be able to use the Edge 200 on a couple of bikes with the minimum of fuss.
Setting up the Edge 200 is very easy via a series of prompts when you first turn on the unit. The set-up means that you quickly learn that the unit is controlled by four buttons, two on either side. Each button controls the screen functions nearest the button.
The ease of use is also reflected when the Edge 200 is in action during a bike ride. The Edge 200 takes about 30 seconds to acquire GPS signals at the start of any ride and tracks your route very accurately. There's a very clear display that shows speed, distance, time and average speed and the unit pauses automatically when you stop. After your ride is finished, it's easy to save, and view, the ride data on the unit and/or upload it to the Garmin website.
The Edge 200 can be used for training. It allow you to set targets for distance, time and calories and will beep an alert when you hit a target. In addition, the Edge 200 has an Auto Laps feature so that you can compare your time over specific distances or when you pass a location.
There's also the ability to create and follow a course that you create from a GPS file. The Edge 200 will show a worm-like line when you are following the course. I've not really used this though.
On a recent 70 mile all day ride, I started the unit at 8.45am and stopped tracking my ride at 5.30pm. That's nearly nine hours use throughout the day. At the end of the ride, the Edge 200 still had 56% battery remaining. My use was probably quite light (following a route would be more battery intensive I'm sure) but I'm still very impressed with that level of battery use.
Overall
I'm really pleased with the Edge 200. It's very easy to use, has a clear display and the battery lasts all day on a cycle ride. Routes can be saved and uploaded to the Garmin website (and to other cycling app websites). The Edge 200 is a great buy in my opinion!