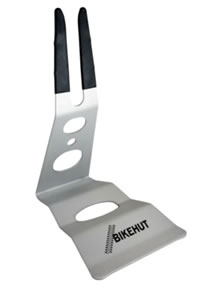 I've been wanting a floor stand for my mountain bike for a while now. Just something that will stand the bike in an upright position to allow me to clean the chain and wash the rest of the bike. I would also like to be able to move the stand anywhere in my house and garden. In Halfords today, I saw a bicycle floor stand which seemed ideal.
It fits on the rear axle between the frame and the hub/brake disc (the rear wheel/tyre is sitting on the stand) and is made of quite solid steel that feels like it will last a while. However, it can easily be moved between rooms.
The stand allows the bike to be positioned upright without any danger of it falling over. I have it in use now and the bike is held quite securely, with minimal movement. It's not locked to the floor or anything but that's not what I want it for.
Buy It: