Author: Nick Cotton
Paperback/Spiral bound: 118 pages
Publisher: Cordee
ISBN-10: 1904207545
ISBN-13: 978-1904207542
RRP £12.99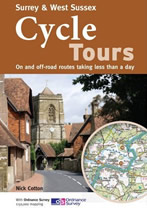 Surrey and West Sussex Cycle Tours is one of the successors to the original Cycle Tours series and it contains 20 cycle rides (or tours as the book calls them) with step-by-step directions and Ordnance Survey Landranger mapping. This is what makes the book (and the rest of the Cycle Tours series) unique because the maps provide every detail that you could wish for. If you have ever used OS maps, you'll know what I mean. They are the best outdoor walking/cycling maps you can buy in my opinion.
There are 15 road routes and five off-road rides in the book and each starts with a short description and overview that includes refreshments points, nearest railway stations, route distances and grading, in an easily readable summary. This is followed by four pages of maps and set-by-step directions. In addition, each map has a gradient profile, that shows the terrain, and the location of the route in relation to other routes in the book.
The routes in the book are between 11 and 17 miles (off-road) and between 23 and 36 miles (on-road). They are graded from easy/moderate to strenuous. The North Downs around Leith Hill and the South Downs from Amberley are the two hardest rides whilst the easiest is on quite lanes west of Cranleigh.
Several of the maps have shortcuts and linking routes to neighbouring tours in the book. It would be quite easy to use the book to organise a cycling weekend or longer.
In summary, this book contains 20 cycle routes in Surrey and West Sussex, each with description, directions and excellent Ordnance Survey maps. If you want to find new cycle rides and explore the attractive countryside and quiet lanes in this area on your road or mountain bike, this book is one of the best!