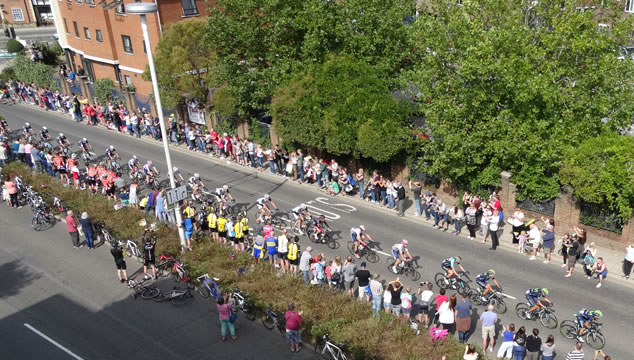 Last Saturday, the Tour of Britain cycle race came through my town, Horsham, West Sussex.
I made my way into the centre of Horsham at about 11.15am to find people seeking out vantage points on the streets, gathering on top of multi-storey car parks, and waiting for the Tour of Britain. By the time the leading group of cyclists came through at ~ 12.15pm, roads had been closed and even more people were watching from the normally car-laden dual carriageway Albion Way in the middle of Horsham. There was a great atmosphere I thought.
As the main peloton group flooded along the road, people cheered and shouted and waved Tour of Britain sponsors flags. It was all over very quickly. About 30 seconds was the time it took for ~ 100 professional cyclists to speed through. And then they were gone.
I enjoyed watching it. Lots of people supporting a sport that has become incredibly popular in Britain in recent times (driven by Olympic and Tour de France successes). It would be great if this resulted in a big improvement in cycling infrastructure and more people taking to their bikes. That may not happen but I'm optimistic.
I know that not everyone likes cyclists. And there are far too many tragic accidents involving cyclists on our roads. Yet, somehow, I still love the feeling of freedom and excitement when I cycle down the road, along quiet country lanes, and away from the hubbub of modern life. You can't beat it!