I've been using Strava and its Android app to record/track my cycle rides over the last two weeks. I've used a few other GPS apps and they all have pros and cons so I would probably pick the best one for the job each time, rather than favouring one over another. However, I do like Strava and it's made its way into my cycle ride apps list.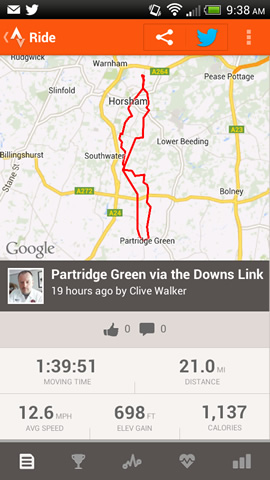 The Strava app has a nice user interface (UI) and it tracks cycle rides very accurately. At the end of the ride, you get the usual ride statistics, for example distance, moving time, average speed, and height gain, and you can upload every ride to the Strava website. It all works very nicely.
There's more though. It's a 'social' app which means you can follow friends, people you know from other social networks like Twitter, Facebook etc. and see what cycle ride and running times they are achieving.
The app also allows you to compare segements on each ride against previous rides and against other people's times on a leaderboard and it's this that has been slightly controversial. See Strava adapts to tackle reckless racing for a recent story about it. I'm more interested in comparing my own times at the moment so that's my main usage of this functionality.
There's also a Premium version of the app which provides more features like the ability to set goals, provide a power analysis of your ride and export .gpx files (see this comparison of free and premium plans). That's not for me at the moment but I may expand my use into that area over the coming months.
All in all, I really like the Strava app and system. It has a nice UI, provides an easy way to track cycle rides and allows you to interact with other people (by leaving comments and giving them 'kudos' on each ride). I think I'll be using it regularly.