So, I've gone and bought a new bike! I've been thinking about getting another bike for a few months and I 'splashed the cash' a week ago. It's a Trek 7.4 FX which is a hybrid/commuting type bike. Some people might call it a flat bar road bike but it's really nowhere near as fast as a road bike; I'm fine with that.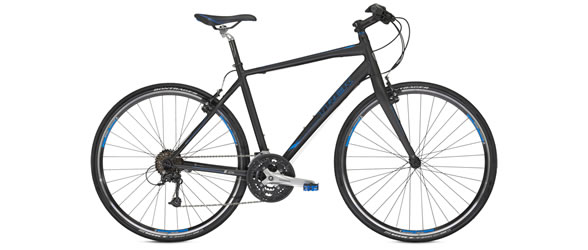 My kind of cycling
I know that some people say that hybrid bikes are a poor compromise and I can see why they say that. However, my situation is that I have a Specialized Rockhopper 2009 mountain bike that I mainly ride on country lanes and some fairly gentle off-road trails. Several times during the year, I also go on long weekend or all-day rides with a few mates and it's similar terrain on those rides. A lot of country lanes and a few bridleways or cycling trails.
The Rockhopper is a great bike and I don't have any reason to criticise it. However, even fitted with Nimbus (minimum tread) tyres, I sometimes feel that it's not quite the right bike for some of the cycling that I do. I might be wrong but something lighter and faster and more suited to country lane road cycling and easy trail cycling seemed to be a good option. So, I bought the Trek 7.4 FX.
I still have the Rockhopper and I'll be riding that when the terrain is more off-road.
Reasons for buying the Trek 7.4 FX
It was (just) within my budget £600.
Trek were recommended by a local cyclist that I know on Twitter. Thanks Keith Russell!
I rode a demo bike (cheaper model but same frame) and liked it.
The chainset and other components on the 7.4 FX were reasonable and the minimum that I wanted.
The bike shop Head for the Hills (in Dorking) gave me some honest advice and I didn't feel like I was being given a sales talk when I was at the shop.
The other options for me were a road bike or a cyclocross type bike. I've not ruled out a road bike in future but the drop handlebars option felt like a step too far for me at the moment.
So far, so good
I've taken the Trek for three rides between 17 and 33 miles so far. It's lighter and faster than the Rockhopper on most roads but it's slightly higher-geared as well so hills feel harder work (although I think I'm ascending at pretty much the same speed as the MTB).
I've noticed the absence of front suspension but I think the Trek copes pretty well and it's not a bone shaking ride (the carbon forks may have something to do with that).
The Trek 7.4 has V-brakes on the wheel rims and the Specialized has disc brakes. So far, I've not really noticed a significant difference (but that may change in the wet).
The Trek feels more 'compact' than the Rockhopper, possibly due to the narrower handlebars, but I'm sure the bike geometry affects that as well. I have been quite surprised by the Trek's handling round corners (on roads) where it feels very light, manoeuvrable and stable. For some reason, I thought that the MTB would be better cornering but the Trek surpasses it on roads.
I'll be putting the Trek through its paces on a more demanding ride, an all-day 75-mile cycle ride in a few weeks time but, overall, I'm very pleased with the Trek 7.4 FX so far.
Where to buy it
Promotion
→ Schwinn Surge Adult Mountain Bike, 26-Inch Wheels, Mens/Womens 17-Inch Alloy Frame, 7 Speed, Disc Brakes