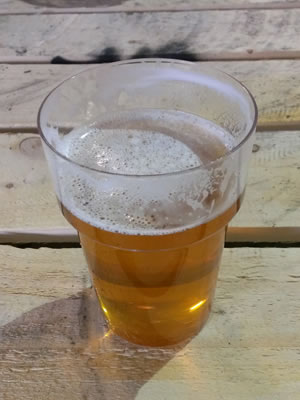 I've written about the Spin Up in a Brewery event at Dark Star in Partridge Green before. I really enjoyed the day in 2013 so was only too happy to repeat the trip this year.
If you don't know, Spin Up in Brewery is a day of bikes, beer, BBQ and roller racing at Dark Star Brewery in Partridge Green. Tickets cost £8 each and include a free pint. Many people cycle to the event on a ride out from Brighton. This year, the weather was a bit mixed because it rained very heavily for an hour or so but, overall, it was a great way to spend a Saturday afternoon!
I cycled from Horsham to Partridge Green by the most direct route, which was from the A281 along Sedgwick Lane, south to Copsale and along the Downs Link Trail to Partridge Green, which made the trip 11 miles in each direction. It was a wet day so, whilst the Downs Link wasn't particularly muddy it was pretty wet and my bike and me were moderately dirty on arrival at Dark Star. No problem though, a pint of Hophead Bitter soon cheered me up!
I met some friends at the brewery; they had cycled a longer route of 30 miles to get there, and we spent a few hours watching roller racing (set-up and run by South Coast Sprints), chatting, drinking a couple of beers and eating from the BBQ, before a (slower) cycle home. It was a great afternoon.
Dark Star, Morvélo and Kinesis Bikes, who either organised or sponsored the event, were very generous with their hospitality and free gifts. There was the "traditional" throwing of free cycling and Dark Star gear to the the expectant crowd and, on departure, we were given a T-shirt and bottle of beer. Nice one!
So, it was an entertaining day and great value for money, to say the least!