Recently, some friends [1] and I cycled two circular routes from Hythe in southern Kent over a weekend (we called it the "Tour de Kent" cycle trip). We cycled through some varied scenery and rode about 140 miles in total. Here's my report with maps of the routes.
Distances: 65 miles (Day 1) and 75 miles (Day 2)
Start and finish: Hythe, between Rye and Folkestone/Dover
Terrain: Some busy roads but mainly quiet lanes
Suitable for: Mountain bike (road tyres), hybrid bike or (preferably) road bike
Cycling in Kent information: Try Explore Kent
[1] We're not a cycle club but just six regular blokes who enjoy a weekend away with cycling thrown in as part of the trip. Clearly, we do train for the rides but, in some cases, there's not a lot of training! We're not in the first flushes of youth either so if we can do this kind of cycle trip – so can you!
Where We Stayed
We stayed in the Swan Hotel in the middle of Hythe. The hotel is in a great location for local pubs and restaurants although Hythe is only a small town. It's a friendly hotel with nine average-sized rooms, two bars (one with Sky Sports), and a dining room that doubles as a Nepalese restaurant in the evenings. We had no real problems but the shower in one room was weak and the same room could have done with redecoration in places.
Cycling in Kent Maps and Navigating the Route
We planned the trip (thanks Dan!) using MapMyRide and bought three OS maps (Landranger 179, 188 and 189) which covered most of the route. During the ride, we used a combination of maps and I also used ViewRanger GPS (see also my review ViewRanger GPs for Cycling) on my mobile phone; this was particularly useful when I got lost on one section near Wittersham!
Day 1 – Eastern Loop via Dover, Deal, Sandwich
This day included part of National Cycle Routes 1,2 and Regional Route 17 (see National Cycle Network) and started by cycling along a coastal cycle path and through Folkestone and Dover. We stopped briefly in Deal for a cannon pie firing event (I kid you not) and had lunch in Sandwich (appropriate, eh?), which was roughly the halfway point. In the afternoon, we cycled country lanes south of Canterbury and back to Hythe, crossing over the M20 at Junction 11A. Most of the route was quite flat apart from two climbs near the start, out of Folkestone towards Dover, and the gradual climb past Dover Castle.
Day 2 – Western Loop to Tenterden, Bodiam Castle, returning via Romney Marsh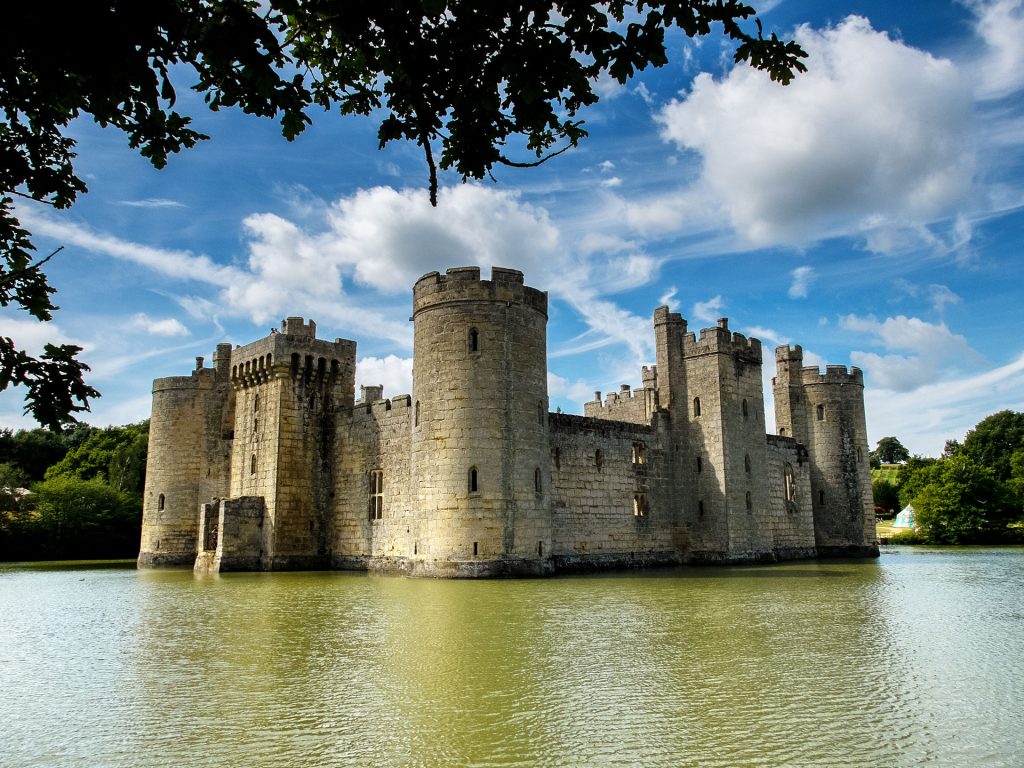 Bodiam Castle, Image Attribution
The second day of our cycle trip weekend started and ended with quiet lanes across the flat marshes west of Hythe, including Romney Marsh. I thought that this would be easy but, whilst there were no hills, the flat terrain meant that the area was very windy and I reckon this knocked at least 10% off our speed. Still, it was good to finish on a flat section at the end of the day! The route went parallel with the Royal Military Canal at several points and it included parts of National Cycle Network Routes 2 and 17.
Tip: I drink a sports recovery powder/drink SIS Rego after each days' cycling. It aids quick recovery and helps alleviate muscular aches and pains the following day. It's helped me on all my cycle rides.
Tip: Saddle soreness can be a problem on all-day rides. For after-ride treatment, I recommend SudoCrem which is an antiseptic zinc oxide healing cream. You can buy it from any pharmacy.
The middle part of this day included some green, forested and moderately hilly countryside near Tenterden and Bodiam Castle where we stopped for a short break. There weren't many shops on the route though and the village shop at Appledore in mid-afternoon was very welcome. As with all long distance cycling, keep some water and snacks with you if at all times if possible.
In Summary
I enjoyed our "Tour De Kent" and whilst the route was not technically difficult or very steep (there were still a few hills though) it was nevertheless challenging to cycle 140 miles over 2 days. We covered quite a variety of scenery from coastal roads to forested hills to flat marsh areas. All in all, it was a grand two days out! If you want to ask any questions about the trip, leave a comment below and I'll try to answer.