The Ridgeway National Trail is an off-road trail in south central England. Earlier this year, a few friends and I cycled the route (in both directions) over three days. I thought it would be a good idea to post my reflections on the route and provide (I hope) some useful tips if you are planning to do the same.
Distance: 87 miles (official route).
Start: Overton Hill (near Avebury) in Wiltshire.
End: Ivinghoe Beacon (near Tring) in Buckinghamshire.
Terrain: Mainly off-road, chalk downlands and forested bridleways but with some quiet lanes.
Firstly, there is lots of useful information about the Ridgeway Trail on the National Trails website. That's the best place to start when planning your trip. Also, Wikipedia has a section about the Ridgeway.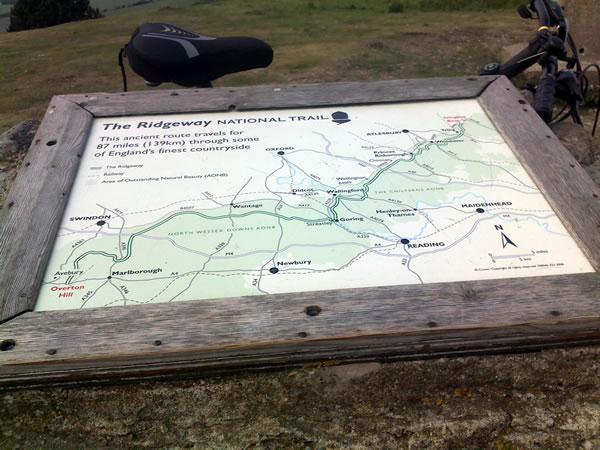 Our Route Itinerary
We decided to cycle the trail in both directions (from west to east and back), partly because it's pretty difficult to organise a way of getting from the end of the route back to the beginning again (even with cars), and also because we had three days to do the route. So here's what we did:
Day 1: From Marlborough, cycle 4.5 miles to the start at Overton Hill, then cycle the Ridgeway mostly off-road to Stokenchurch (via Streatley and Goring-on-Thames) – total 68 miles
Day 2: From Stokenchurch to the Ridgeway Trail endpoint at Ivinghoe Beacon (via Tring) and back to Stokenchurch – total 54 miles
Day 3: Cycle Stokenchurch to Marlborough – total 60 miles (off-road) or 52 miles (by road)
Our route was determined by where we were staying but the overall distance may well be be similar even if you stay in slightly different places.
You definitely will find it easier with Ordnance Survey maps for this route. The maps are Landranger 173, 174, 175 and 165 although 173 only covers a small section at the start. Sustrans also has a map of the Ridgeway.
Where We Stayed
We stayed in the Ivy House Hotel in Marlborough and the King's Hotel in Stokenchurch, both of which were fine. However, the Stokenchurch hotel is opposite a pub and, with the windows open on a summer evening and late night pub opening on Friday and Saturday, it can be pretty noisy if you in are rooms at the front of the hotel.
In Stokenchurch, we ate a meal at another pub called the Royal Oak (with great Thai cuisine) behind the hotel. In Marlborough, there are pubs and restaurants up and down the wide High Street.
Both hotels provided areas to store bikes, either in a locked room inside, or at the rear in a quiet car park.
Cycling from Marlborough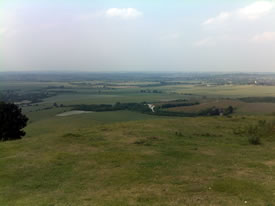 The first day was mostly off-road over chalk downland and it can be hard physically if you are not used to this. There were some sections that I found quite difficult technically because they were rutted and there were a few tough climbs. However, in the main it was very pleasant open landscape riding with some fantastic views from the Ridgeway over the surrounding countryside.
Like any long distance cycling trip, you should take plenty of water, energy drinks and food with you (for advice about how to carry this, see also Rucksack or Bike Bag?). Be aware that unless you go off-route to visit nearby villages, there were not many obvious food and drink stops for long sections of this first part of the route. However, there are water stand pipes at some points and these were very welcome!
Tip: Even if you still have water, drinks and food in your bag or rucksack, take every opportunity to top-up when you reach shops. You'll not always know when the next replenishment stop will be.
This section of the trail was well signposted and we had no major problems finding our way on the off-road sections. However, after Streatley and Goring-on-Thames, the Ridgeway is a footpath in many places so you'll need to find alternative bridleways. We used the Swan's Way for part of this latter section until Stokenchurch. If by any chance you are staying in Stokenchurch, there is a long climb on the A40 for the last few miles (north of Stokenchurch travelling south). Just what you don't need at the end of a long day!
To Ivinghoe Beacon
The second day was quite a contrast to the first because the bridleways were mostly forested and because we had quite a bit of difficulty finding the way. As mentioned previously, the Ridgway is mostly footpath in this area so we had to find alternative, mostly parallel-to-the Ridgeway, bridleways that allowed cycling. We spent a lot of time looking at OS maps! We followed the Swan's and Icknield Ways (I think) and also cycled some quiet country roads before we reached the end of the Ridgeway at Ivinghoe Beacon. The last part of the route was a deceptively long, slow climb from Aldbury to Ivinghoe and the Beacon. The last section is a path up to the Beacon itself. It was a great feeling at the top!
To be honest, we arrived at the Beacon between 3 and 4 pm which was much later than we'd planned. If you get there at a similar time and you need to get to your hotel quickly, take my advice and take a faster road route after the Beacon. That's what we did to get back to Stokenchurch.
Tip: Even though it might be tempting to get up late on each day of a cycling trip, my advice is to get going as early as possible. You can often cover a few miles on quieter roads at the start and you'll finish earlier – giving you more time to relax in the evening.
Back to Marlborough
For the final day, we cycled back to Marlborough via one of two routes. Either off-road using the same route in reverse or by road via Watlington, Wallingford, Didcot, Wantage, Bishopstone and the A346 to Marlborough. I did the road route because by that point I really needed to make sure that I got back at a reasonable time (and because I wanted to watch the England v Germany World Cup game that afternoon). There were no real problems with the road route and much of it was on quiet roads. However, the A346 into Marlborough is a busy road (and it has a tough little hill near the end).
Boy, oh boy, it was good to relax back in Marlborough that evening (despite the football result).
Tip: It's not always possible but try and cycle in groups (or pair up) on long distance trips. It's safer if you have a fall and it's a lot easier to repair punctures and/or change tyres with moral support from friends – and you'll have a wider range of bicycle tools to call on as well.
In Summary
You have to be physically fit to cycle the Ridgeway so it's not for mountain biking beginners. Some of the terrain is very similar to the South Downs Way but I found the route (slightly) easier because there are less hills. The first part of the route has some fantastic open downland, chalk ridge cycling and that was the best bit for me. I would say that the Ridgeway is not too difficult in a technical sense but you need to start early and allow enough time on each day to cover the distances.
Overall, I think we all enjoyed the three days even though it was pretty demanding.
If you are thinking about cycling the Ridgeway Trail and want to ask any questions about the route, leave a comment below and I'll try to answer.