Last year, some friends and I went cycling in Kent over a weekend. It was an enjoyable two days so this year we returned to Kent for a one-day cycle trip to starting in Canterbury. Here's my report on the trip.
Distance: 74 miles
Start and finish: Canterbury
Start time: 8.45 am
Terrain: Quiet lanes and a few off-road cycle trails
Suitable for: Mountain bike (road tyres) or hybrid bike or road bike (off-road sections were flat paths).
Where We Stayed
We stayed in the Best Western Abbots Barton Hotel which is less than a mile from Canterbury city centre. It's an ideal location because it's a short walk from the hotel to the plethora of bars and restaurants in the centre of Canterbury. The hotel itself was comfortable and we were able to park cars there from early on the day we stayed.
The hotel was virtually directly on our route.
The Route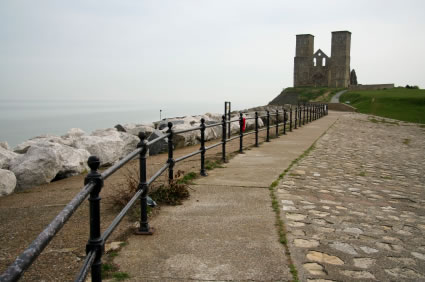 Our route headed west from Canterbury before turning north to the coast via the outskirts of Faversham. We cycled through Whitstable and Herne Bay before reaching Margate. Turning the 'corner', we headed south again through Broadstairs before turning inland south of Ramsgate and back to Canterbury via some quiet villages.
More About the Day
A large proportion of the ride was along the northern Kent coast and even along the sea wall in places! It was quite a different experience to be cycling with the sea crashing on the beaches and the sea wall just a few yards away. As a result, the ride was very flat with only a couple of climbs of any note. By the end of the ride, I was quite glad of this though!
Unfortunately, I was the only one in our group to get a puncture so that meant that my lunch break was spent replacing the tube followed by a quick bite to eat. Not exactly what I had planned. A relaxing 30 minute stop would have been better!
We finished the ride at 6.30 pm which was later than we had planned (at least, it was later than I thought it would take). We had a few delays while we navigated through Canterbury at the start and finish of the ride and we needed to wait for one of the group who took a wrong turn in the late afternoon. That's an 'occupational hazard' on a group cycle ride; it happens to us all!
Tip: On an October ride, you really need to have bicycle lights with you. Luckily, we came prepared!
Final Thoughts
This was perhaps not the most scenic route I have ever cycled but I still enjoyed it. The riding along the coastal path and the sea wall was great and we went through quite a few seaside towns and some quiet villages.
The night out in Canterbury was also good and we had a curry and a few beers. That combination may not be a prescribed 'sports recovery food and drink' but you can't beat it after a long day cycling!